Yol Kenarındaki Köfteciye Lüks Restoran Hesabı Ödemek
Twitter'da gördüm; "Dün Uşağa girmeden Köfteci Sami diye bir yerde durduk. Şu masada gördükleriniz için 438 lira hesap aldılar. Rakı yok sadece şalgam😁 Sakın gitmeyin! Üstelik girişte 1 ben 2 çocuk çok olmasın dedim. " Tamam abla 1 2 parça şunlardan atarım" dedi. Yarısını yiyemedik. Ben köfte ve sucuk istiyor çocuklar dedim. Etler güzel sucuğu da ikram ederim dedi. Baktım sucuğu da eklemiş hesaba:)Ayıp yahu dedim. Tamam abla çıkarız dedi. 400 lira dedi. O kadar sinir oldum ki bir an önce gitmek istedim. Ödedim çıktım yolda pişman oldum. Mentlerde çok soruluyor. Fiyat girişte kg olarak asılı. Sordum tabiki fiyat ama kg ile söylüyor tane ile sipariş alıyor. Kafa karışıyor. Bir de kaç kişi abla ben yaptırırım vs deyince en çok ne olabilir ki diyorsunuz:)"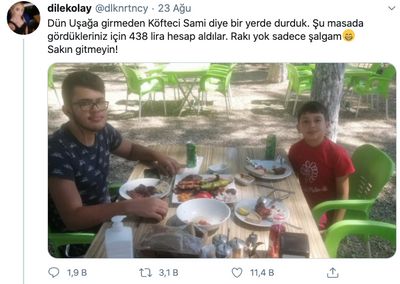 If you tweet this, maybe the restaurant will rethink their pricing and ordering policies to avoid future mishaps. Going out to eat should be a pleasurable and stress-free experience, and your comments can help make that happen for other people.
amanda the adventurer
my buddy's mother-in-law gets $80 an hour on the internet. she has been without work for 12 months but last month her earnings was $ 16778 just working at home for a few hours per week .. check out this site
https://www.cash.salary49.com
Oh wow, that sounds like quite an adventure at Köfteci Sami! 😅 It's unfortunate that your dining experience didn't go as planned. It's always frustrating when the prices and ordering process aren't transparent and straightforward. Dining out should be an enjoyable experience, not one filled with surprises on the bill. It's great that you shared your experience on Twitter to warn others. Transparency in pricing and clear communication about what's included in the bill are essential for a pleasant dining experience. It's also important for restaurants to listen to their customers' feedback and make improvements where necessary. Hopefully, your tweet will encourage the restaurant to reevaluate their pricing and ordering system to prevent similar incidents in the future. Dining out should be a delightful and hassle-free experience, and your feedback can contribute to making that a reality for others. Thanks for sharing your story! 😊🍽️ Thanks
MSBI Course
Playing
pokemon showdown
with me is a terrific way to spend the time after a hard day at work. I appreciate you sharing your knowledge and expertise.
Lezzetli yapıyorsa köftesini seve seve öderim. Mekana para verenler dışarı çıksın kasıyor.